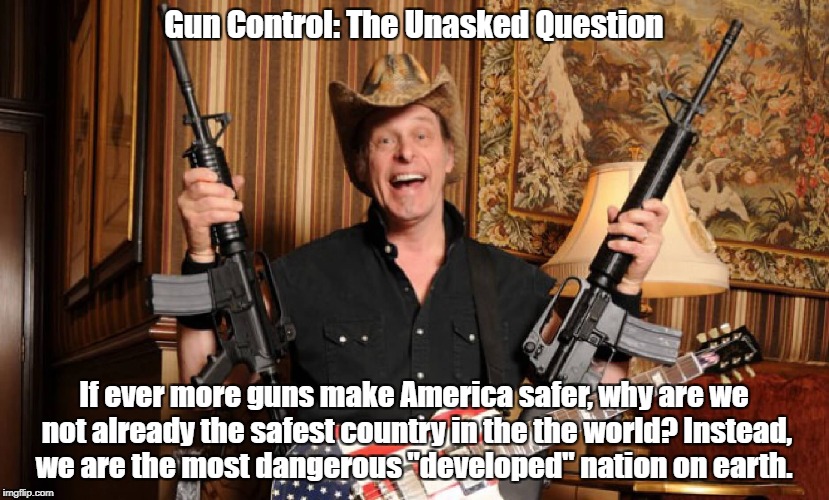 Thanks for today's thought.
It is true that criminals don't care about gun laws.
But civilized people do care which is why -- over time -- civilization takes root.
England, Ireland, Scotland, France, Spain, Portugal, Italy, Germany, Holland, Belgium, Denmark, the Scandinavian countries, east Europe, Australia, New Zealand, Japan, Argenina, Uruguay and South Korea are not accidents.
They are The Civilized Norm.
We, on the other hand, live in The United States of Barbaria because we choose to.
We are The Wild West because we have normalized brutality.
Routinely addicts mistake another dose of their chosen poison as the best way "to get straight."

Alan
Seven Laws (All Consistent With The 2nd Amendment) That Would Save 27,000 Lives A Year

"Gun Cartoons and Gun Violence Bibliography"
What Second Amendment Evangelists Fail To Understand About Their Opposition
"The Only Thing That Stops A Bad Guy With A Gun Is A Good Guy With A Gun"
Australian Gun Control After Port Arthur Massacre Left 35 Dead
Handguns At Home And The Scourge Of Suicide Among Young People
80% Of All Firearm Deaths In 23 Industrialized Countries Occurred In The U.S.
"Toy Guns Outlawed At Republican Presidential Convention. Real Guns Allowed"
Favorite George Carlin Shticks
Email from south Texas publisher EK:
"Let me tell you a little secret. Criminals don't care about your gun laws."
Have a great Day and a Wonderful Weekend!
Remember the Floresville Lions Club Palm

Sunday

BBQ! WCN has tickets!!!